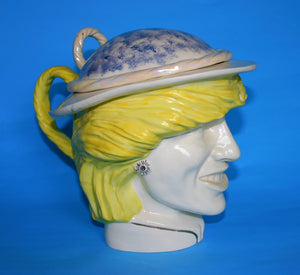 Princess Diana
Regular price
$836.00
$0.00
Unit price
per
This is the rare Princess of Wales (Di) produced by Richard Parrington in the 1980's. It had a very short run which sold out very quickly. There was to be a companion pot of the Price of Wales that was withdrawn after protests, as was Princess Di.
You can see this pot in Bramah p.181 (#450).
The condition is very good, with the usual fine crazing: there is a bruise-like flake on the brim of the hat (1/4 inch) which can be seen under careful inspection which is under the original glaze. This is mentioned for accuracy.
Size 10 inches wide by 9 inches long
These pots have sold for over £1000 in auction in the past.
---
Share this Product
---